Experience the Allure of Natural Fidelity
A beautiful balance of exceptional performance and organic design, Sonus Faber handcrafted high-fidelity speakers satisfy the most challenging sonic demands of both artists and lovers of sound.
---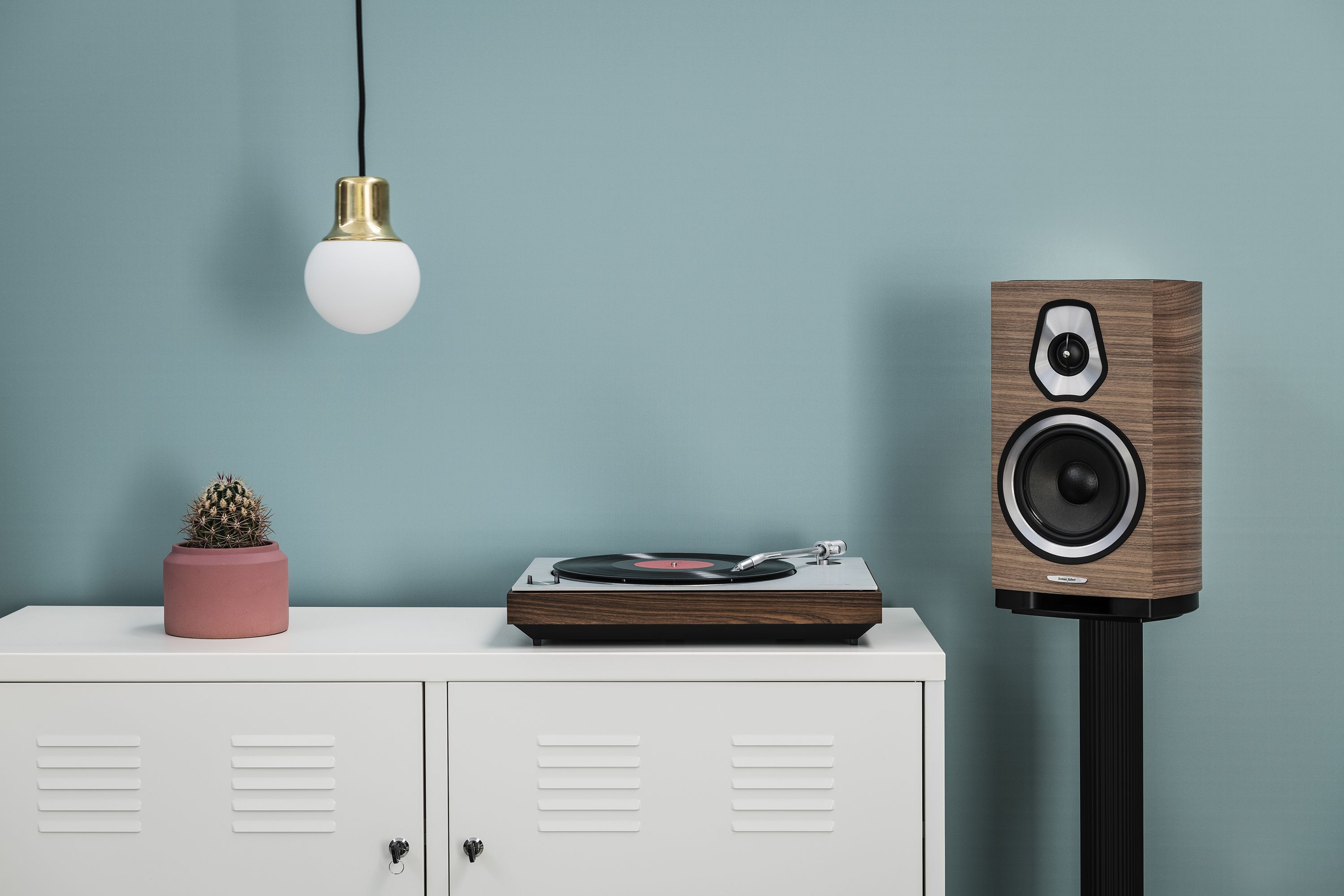 Experience the Allure of Natural Fidelity
A beautiful balance of exceptional performance and organic design, Sonus Faber handcrafted high-fidelity speakers satisfy the most challenging sonic demands of both artists and lovers of sound.
Olympica Nova
Successor of the Olympica collection, Olympica Nova is made new with freshly developed technology while carrying on the iconic nature-inspired asymmetrical cabinet shape that immerses you in a natural sound experience.
Experience Meets Elegance
The Olympica Nova speaker collection is the distillation of the Sonus faber identity. Recreate the power of a live music performance with no compromise.
Specifications
Olympica Nova I

The bookshelf model of the signature collection, Olympica Nova I is a 2-way stand-mount speaker which features a silk dome tweeter and cellulose-pulp midwoofer for smooth tonal balance, encased in a hand-finished natural walnut or wenge wood cabinet with natural leather embellishments.

Olympica Nova II

The smallest floorstander in the collection, Olympica Nova II has everything needed to satisfy the most discerning ear. This 3-way speaker features a cellulose-pulp high-rigidity woofer that allows for perfect reproduction of low frequencies while guaranteeing absolute tonal coherence with the midrange.

Olympica Nova III

Olympica Nova III is the next step up from the Olympica Nova II. Similar in design and performance, this luxury floorstander features a slightly larger footprint and exceeds in bass extension due to its two woofer cones. Olympica Nova III creates a unique soundstage that certainly won't go unnoticed.

Olympica Nova W

Enjoy enveloping sound in any and every room with this unique 2-way on-wall speaker. Said to be the most interesting novelty of the Olympica Nova collection, the W model is easy to install and beautiful to look upon. Bring your music everywhere while harmoniously elevating your décor.

Olympica Nova CI

Rediscover your beloved films with exceptional sonic clarity when you choose the Olympica Nova CI 2-way center-channel speaker. This compact speaker model not only acts as an acoustic diffuser but becomes a piece of beautiful furniture in your home. Get ready to transform your cinema experience.

Olympica Nova CII

Complete your high-end home theater with this 3-way center-channel speaker that integrates seamlessly with the largest floorstanders in the Olympica Nova collection. The CII model offers a completely realistic vocal reproduction and allows you to enjoy every last detail of your music.
Gravis
A powerful bass extension to any size home theater or music room, the Gravis subwoofer collection perfectly complements all Sonus faber full-range loudspeaker lines. Experience strength and design at the highest level.
Navigate the Depths of Sound
The Gravis collection spans from compact and versatile to the height of luxury. No matter which subwoofer you choose, Sonus faber promises a powerful performance every time.
Specifications
Gravis I - II

The compact Gravis I and II are designed to complement any audio-video system. Featuring large power handling and high excursion, these active subwoofers allow for wide, solid, fast and deep sound reproduction for music and cinema. Enjoy beautiful white, black, walnut or wenge finishes.

Gravis III - V - VI

Gravis III, V and VI are the most powerful and high-end models of the Sonus faber active subwoofer line. Easily controllable via a mobile app, the Gravis III, V and VI are designed to optimize sonic reproduction depth and manage resistance flexing even under the strongest signal. Enjoy beautiful black, red, walnut or wenge finishes.

Transmitter

Experience maximum versatility and discretion with a dedicated Sonus faber wireless transmitter designed for the Gravis V and VI subwoofers. This transmitter allows you to wirelessly transmit an audio signal from your receiver, Blu-ray player, stereo amp and more to your Gravis V or VI subwoofer.
Sonetto
Designed with music in mind, the Sonetto loudspeaker collection aims to deliver the highest quality in sonic reproduction at an affordable price range. Bring the iconic voice of Sonus faber and the traditional culture of Italy to your Kalispell or Flathead Valley, MT home.
Bigger Sound for All
Lose yourself in a world of genre with Sonetto, a speaker collection built in likeness of Italy's most ancient poetic structure: the sonnet.
Specifications
Sonetto I

A small yet strong bookshelf model, the Sonetto I is a 2-way stand-mount speaker ideal for middle size listening rooms. Its silk dome tweeter and natural fiber midwoofer deliver the iconic voice of Sonus faber at a lower price range. Choose from hand-finished black, white, walnut or wenge cabinets.

Sonetto II

A step up from the Sonetto I, the Sonetto II bookshelf is a bigger 2-way loudspeaker with a larger midwoofer, which is capable of delivering wider downward frequencies and greater emotional impact. Discover the enchanting voice of the Sonetto II, available in black, white, walnut or wenge finishes.

Sonetto III

The smallest floorstander in the collection, Sonetto III surprises you with its power. Though its dimensions are slim, this 3-way loudspeaker demands the presence of a much larger speaker, thanks to advanced technologies and two woofers. Enjoy beautiful tonal balance paired with Italian artisanship.

Sonetto V

Sonetto V is the middle of the three floorstanders in the collection, known for reproducing rich, lively sound in even the largest of rooms. Featuring a slightly larger profile and larger woofers than Sonetto III, Sonetto V preserves the refined voice of Sonus faber by celebrating full, dynamic natural sound.

Sonetto VIII

Sonetto VIII is the largest and most powerful floorstander in the collection, featuring three 180mm woofers for superior reproduction of lower frequencies. This flagship 3-way loudspeaker carries on the Sonus faber tradition of natural sound, natural materials and luxury Italian craftsmanship.

Sonetto Center I

A small but mighty center-channel speaker, the 2-way Center I is a perfect partner for the smaller floorstanders in the Sonetto collection. Complete your home theater system with a center-channel speaker that fits easily into diverse environments and guarantees excellent performance.

Sonetto Center II

The Center II is the largest high-performance 3-way center-channel speaker in the collection, featuring two 150mm woofers for optimal low frequency reproduction. If you demand the very best in home theater performance, you'll love Sonetto Center II as an emotional complement to your system.

Sonetto Wall

A versatile 2-way on-wall loudspeaker for all your audio needs, Sonetto Wall is perfect for both multi-room and 2-channel systems. Its discreet physical presence delivers optimum performance and adds beauty to virtually any environment. Save space but maintain quality by choosing Sonetto Wall.